News
"Layers of Change"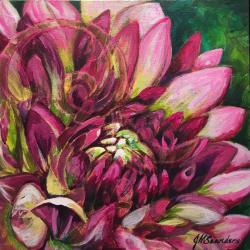 Jul 14, 2020
When the world decided to add "Layers of Change" to our lives, I decided it was just another opportunity for me.  With added time alone in my studio , I've begun work on a new series of paintings. Flowers are in bloom all around, and loving nature as I do, I'm helping them to "bloom" in my studio, until they are replanted in your home or office.
 This piece, entitled "Layers of Change" ~ Is 12"  x 12" (acrylic on wood panel) The many layers of the dahlia intrigue me and is said to symbolize inner strength, enduring grace, creativity and change which made this so fitting for this moment of time in the world.     LIKE US,  each flower has its moment to shine, show its colors and brighten someone's day.  I'd like to brighten your day with a new creation! CALL ME!
AND REMEMBER:  I'm always happy to pack up my PPE and paints and come create a unique space on the walls of your home or business, with a custom mural, but remember that I can also create a beautiful piece of art for you to hang in your space too.